Twenty-three gymnasts from Denton Gymnastics Academy will be recognized for a total of 69 state, regional, area and national awards at the annual Texas USA Gymnastics banquet on June 28 in Irving, TX.  Those honored include Alexis Stokes, who qualified to compete at the USA Junior Olympic National Championships, which were held in May in Jackson, MS.
The banquet is held annually by Texas USAG to honor top athletes in the state who participate in women's artistic gymnastics from levels 3 through 10, as well as Elite level gymnasts.  To earn an invitation, level 3 gymnasts must claim a championship title at North State competition and gymnasts in levels 4-10 can qualifiy with a first place, champion title at the State Championships for their levels.  Also recognized are athletes qualifiying to represent Texas at Regional Championships for levels 7 and 8 and those earning gold at those meets are also recognized, as are level 9 competitors advancing to or claiming gold at Western Championships.  Level 10 athletes who earn the top honor of qualifying to compete at the Junior Olympic National Championships are also recognized.
Athletes from gyms across Texas are able to earn recognition at the annual awards banquet, though few ever earn as many honors as the Denton Gymnastics Academy earned for the 2013-2104 season, which wrapped up in May and no other gym DGA's size earned more awards. "We are very proud of our athletes and their many accomplishments this year," said Rodica Lazar, Denton Gymnastics head coach.  "Having gymnasts succeed from the beginning to the top levels of the Junior Olympic program is especially rewarding." Success at DGA does extend to to the highest levels of the sport.  Days before the banquet, the gym will say goodbye to International Elite gymnast, Abby Milliet, as she leaves for summer training at Auburn University, where she received a full gymnatics scholarship.
Denton Gymnastics Academy gymnasts being recognized are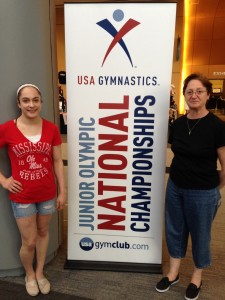 Landry Billingsley  Level 5 State JR B2 Beam Champion
Rylie Bright  Level 5 State SR A1 Vault Champion; Level 5 State SR A1 Bars Champion;  Level 5 State SR A1 Floor Champion; Level 5 State SR A1 All Around Champion; Level 7 State  Vault Champion; Level 7 State  Floor Champion;  Level 7 Regional JR D1 Vault Champion; Level 7 Regional Competitor
Taylor Carlisle  Level 4 State SR B3 Bars Champion
Halley Dickson  Level 8 Regional SR A Floor Champion; Level 8 Regional Competitor
Elizabeth Eisen  Level 5 State JR A2 Beam Champion
Avery Finke  Level 3 North State SR B3 Bars Champion;  Level 3 North State SR B3 Beam Champion;    Level 3 North State SR B3 All Around Champion
Courtney Henry Level 5 State JR A2 Vault Champion; Level 5 State JR A2 Bars Champion; Level 5 State JR A2 Floor Champion; Level 5 State JR A2 All Around Champion;  Level 7 State 7 Vault Champion;  Level 7 Regional JR A2 Vault Champion; Level 7 Regional Competitor
Kaytlyn Johnson  Level 5 State JR C1 Vault Champion; Level 5 State JR C1 Bars Champion; Level 5 State JR C1 Floor Champion; Level 5 State JR C1 All Around Champion; Level 8 State 8-11 yr old Vault Champion;  Level 8 State 8-11 yr old Bars Champion; Level 8 State 8-11 yr old All Around Champion; Level 8 Regional Competitor
Jessica Joplin Level 5 State SR A3 Vault Champion; Level 5 State SR A3 Beam Champion; Level 5 State SR A3 Floor Champion; Level 5 State SR A3 All Around Champion; Level 6 State JR E2 Vault Champion; Level 6 State JR E2 Beam Champion;  Level 6 State JR E2 Floor Champion; Level 6 State JR E2 All Around Champion
Kendyl Koerbacher  Level 5 State JR A3 Floor Champion
Kayla Libick  Level 4 State SR C1 Bars Champion
Victoria Loomis  Level 9 Westerns Competitor
Greta MacMillan  Level 4 State JR C2 Beam Champion
Kamrey Mullens  Level 7 Regional JR C2 Floor Champion; Level 7 Regional JR C2 All Around Champion;  Level 7 Regional Competitor
Jailyn Porter Level 3 North State SR B3 Vault Champion
Ilyana Ranchos Level 5 State SR A3 Bars Champion; Level 6 State JR E1 All Around Champion; Level 5 State JR A3 Bars Champion; Level 7 Regional JR B1 Vault Champion; Level 7 Regional JR B1 Floor Champion; Level 7 Regional JR B1 All Around Champion; Level 7 Regional Competitor
Caroline Simmons Level 8 Regional JR D Vault Champion; Level 8 Regional JR D Beam Champion; Level 8 Regional Competitor
Catherine Simpson  Level 5 State JR C2 Vault Champion; Level 5 State JR C2 Floor Champion; Level 5 State JR C2 All Around Champion; Level 7 Regional JR C2 Vault Champion; Level 7 Regional Competitor
Caroline Simpson Level 5 State JR C2 Beam Champion; Level 6 State JR C2 Vault Champion
Alexis Stokes Denton Gymnastics Level 10 Junior Olympic National Championship Competitor
Lindsey Wilcox Level 6 State SR D1 Vault Champion; Level 6 State SR D1 Floor Champion; Level 6 State SR D1 All Around Champion
Lexie Wills Level 6 State JR D2 Floor Champion; Level 6 State JR D2 All Around Champion