Dr. Marilyn Massey-Stokes holds many credentials in the field of health education, wellness and nutrition, including a Doctorate of Higher Education (EdD), Certified Health Education Specialist (CHES), Fellow–American School Health Association (FASHA), Certified Wellness Coach (CWC), Certified Health Coach (CHC).  We look forward to having her as a frequent contributor to our blog and hope you'll check back often to read what she has to share. 
Nutrition–Part I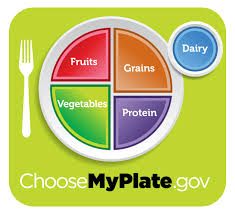 I once heard someone say that food is like the gas you put in your car (or truck or motorcycle).  Quality gas helps a vehicle operate more efficiently; similarly, quality food (sound nutrition) helps the body operate more efficiently.  In a sport like gymnastics, this is critically important.  I will be the first to admit that there are many different opinions about nutrition, but I think it's important to review some of the basics; and then each individual can decide where to branch off from there.
The Basics The Dietary Guidelines for Americans, which are reviewed and updated every five years, are recommendations for Americans aged 2 years and over.  The Dietary Guidelines encourage individuals to focus on consuming a healthy diet that contains foods and beverages to promote health.  Additionally, regular physical activity goes hand-in-hand with wise nutritional practices for healthy weight management, health promotion, and disease prevention. The U.S. Department of Agriculture (USDA) MyPlate is a tool that people can use to meet the Dietary Guidelines.  MyPlate illustrates the five food groups that are considered the foundation of a healthy diet—fruits, vegetables, grains, protein foods, and dairy.  (Sorry, chocolate is not one of them!)  Vegetarians and those with special food concerns, such as food allergies, can adapt MyPlate to fit their particular nutritional interests and needs.  The overall concept is to eat a variety of healthy foods, with a focus on fruits, vegetables, and whole grains.  Keep an eye out for future blogs in which I will briefly discuss each of the five food groups, including tips for integrating them into your diet.  You can also explore credible websites, such as those listed below, to learn more about MyPlate and garner tips for healthier eating.
General Tips
Eat a variety of healthful foods from all of the food groups.

Learn how to make healthier choices, such as choosing lean cuts of meat, eating a rainbow of fruits and veggies, buying more whole grains, baking instead of frying, limiting low-nutrient foods (e.g., snack foods that are high in fat and/or sugar), and drinking skim or 1% milk instead of 2% or whole milk.

Remember to drink plenty of water, particularly when exercising or working in the heat.

Take a balanced approach; although I personally believe no food should be totally off-limits, use common sense and reduce your consumption of low-nutrient foods.

Take a list to the grocery store, and avoid shopping when you're hungry.  And if you can, leave the kids at home.  They are masters at impulse shopping!
Here are some other links you might find interesting.